Arc Welders
These are designed to meet the needs of heavy type of jobs like: Rolling Mills, Sugar Mills. Shipyards, Maintenance of Machinery and all types of heavy fabrication.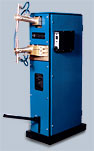 Spot Welders
These machines are designed & developed to meet the needs of a vast number of sheet metal fabrication shops and can be used for electro brazing, cross wire welding, projection welding & resistance heating.


Auto Variable Transformers
Auto Variable Transformers - STERCO product line includes variable transformers, the most versatile and reliable voltage controls available, Variable transformers have many industrial and laboratory applications as basic components to control voltage, current, power, heat, speed, light, and electromechanical force

.